As restrictions in the UK tighten and the effects of the global pandemic become ever more real, my thoughts go out to the Italian nation which is suffering the most at this time. I have been closely associated with Italy since 1986, and now have part of our manufacturing based right at the epicentre of this truly devastating virus.
Whilst everyone is looking to Governments to find the solutions and fund everyone during the process, we must remember that our economy relies on production and sales. If there is a dramatic reduction in these activities the money supply will soon dry up.
Everyone needs to consume less and waste little and take guidelines seriously. It is a very worrying time for everyone, but we need to adapt to our new circumstances quickly, particularly as it seems that we must expect at least 6 months, and more likely 12, before there can be any chance of a return to normality.
At AET we are continuing to meet our commitments contractually, and I am very grateful to all the team for their determination and dedication. No doubt the situation, in London particularly, is going to get more difficult and we will continue to review our procedures in line with recommendations.
Looking back over the past few months, AET has worked on a number of really exciting, and some award-winning, retrofit projects, which have breathed new life into existing buildings whilst still preserving their historical charm. Not only does this have a reduced impact on the environment, but it also preserves the beauty and heritage of our streets.
We also have a number of exciting new retrofit projects on the horizon, including the refurbishment of Citygate House, the old Bloomberg building. We actually fitted our UfAC system into Citygate House nearly twenty years ago, and it was great to hear that they were so pleased with the system that they wanted to update it and include it in the £60m refurbishment.
I wish everyone a safe and swift return to normality, and hope that our journey over the coming months will be as painless as possible.
Latest news

AET's underfloor air conditioning used in award-winning renovation of grade-2 listed London landmark
An innovative underfloor air conditioning system has allowed key period features to be preserved in the renovation of grade-2 listed building, 24 St James Square. British company AET Flexible Space provided an underfloor air conditioning system which fits into the existing space beneath a raised-access floor, thus removing the need for any ceiling-based ductwork and the need for a lowered ceiling.
One of the main challenges presented by the refurbishment of 24 St James Square was the need to simultaneously preserve key architectural features of the building, such as the original ceilings and windows, whilst at the same time providing flexible, modern, premium office space that would suit the requirements of incoming tenants.
This is a challenge which simply could not have been met with an overhead air conditioning system. The remodelling of the office interiors at all levels was driven by seeking to maximise floor space and take full advantage of views from the double aspect interior.
AET's pioneering UfAC CAM-V system was perfectly suited to this complex project because it eliminates the need for ceiling-based services and associated duct and pipework, while at the same time maximising the floor to ceiling heights. The underfloor system also creates a brighter and more airy office environment, and also means that the services can be maintained at an easily accessible level. The installation of an overhead air conditioning systems using ducting would have taken up valuable headroom on each floor, as well as covering up the building's original ceilings and creating awkward junctions where window heads would otherwise meet suspended ceiling grids.
M&E Consultant for the project, Vic Holloway, from Edward Pearce LLP commented, "At the outset of the design process it was clear that the refurbishment delivered significant challenges in delivering fully serviced accommodation whilst maintaining respectable floor to ceiling heights. The AET downflow units promptly stood out as the obvious candidate for several reasons, including having the absolute minimum requirement for floor void height, and offering excellent distribution of cooling, heating and ventilation evenly across the whole floor whilst reducing energy consumption."
A key goal for the refurbishment was to design and build a flexible workspace which could adapt to changing needs in the future. AET's UfAC systems provide far greater flexibility than ceiling-based air conditioning systems. Once an overhead ceiling air conditioning system is installed it is not possible to easily reposition Fan Coil Units, Distribution Pipework, Ductwork and the like. AET 's UfAC system is inherently flexible, modular in design, and are installed at floor level, making it easy to install, maintain and re-arrange to suit the changing needs of the workspace. AET's Fantiles™ can easily be relocated, offering huge savings when reconfiguring and adapting workspace.
A common complaint from staff prior to the refurbishment was the variation in temperature across the office space, and the cold draughts caused by the ceiling-based air conditioning system. Due to AET's unique control solution it is possible to set the temperature and air flow to zone requirements. AET's UfAC solution is designed to create minimal draughts and allow for individual control of temperature and fan speeds, creating comfortable and adaptable working environments throughout the office space.
The 24 St James project has already won the "Best Office Architecture London" award at the 2019 International Property Awards[i], and the space is currently being let as Grade A office space by BNP Paribas Real Estate.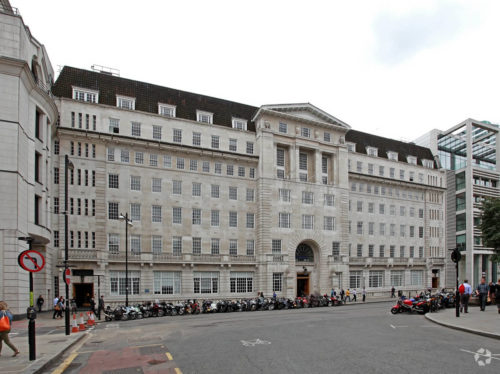 AET Flexible Space secures contract to supply innovative underfloor air conditioning system to Citygate House renovation
AET Flexible Space, the British-based underfloor air conditioning pioneer, has won the contract to supply its innovative underfloor air conditioning system to the renovation of landmark London building, Citygate House. Architects Stiff and Trevillion are leading the extensive refurbishment and extension of the building, and it is due for completion in Winter 2020.
Originally designed by Frederick Gould and Giles Gilbert Scott, and built in 1930, Citygate House was later taken over by the media giant, Bloomberg. Bloomberg's 2002 refurbishment of the building won the BCO Best Fit-Out of Workplace Award.
AET's underfloor air conditioning system was first introduced into Citygate House as part of the 2002 refurbishment, and when the system was reviewed for the latest renovation it was found to be the most efficient and flexible system available. The decision was also made to extend the use of AET's system from seven to nine floors of the building, from the lower ground to the seventh floor, covering a total of 9000m2.
AET's underfloor air conditioning systems make use of the space beneath a raised access floor to create the air ventilation path, eliminating the need for ceiling-based services and associated duct and pipework. This means that floor-ceiling heights can be maximised without impacting existing features of the building.
Following the £60 million renovation, all nine floors of Citygate House will be supplied with chilled or warmed air via AET's CAM-C (Conditioned Air Module) unit. The conditioned air is then delivered into the space using a number of recessed fan terminals (Fantile™). There is a considerable amount of flexibility in where these fan terminals can be placed, allowing for easy reconfiguration depending on the particular needs or layout of an office.
AET's CEO, Glan Blake Thomas, commented, "It is great that we have been asked to update and extend the coverage of our system inside Citygate House, as it is a real vote of confidence in the quality of our systems. We know that end-users love the flexibility and efficient cooling provided by an AET system, and I think that it is going to really complement this exciting and contemporary refurbishment."
Spotlight on: new contracts
Some recent contracts recently won by AET Flexible Space include:
8-10 Pollen Street. 1000m2 Developer: Morgan Capital, Architect: Cambell Architects Engineer: GDM Partnership. System: CAM V(DX).
We are looking forward to partnering with our brilliant architects and contractor partners on these projects and will share further updates as the installations progress.
Contact us
We'd love to hear from you. Get in touch with us at:
Email: gbt@flexiblespace.com
Telephone: +44(0)1342 310400