System
CAM-V - floor supply, high-level return
2002 ; 2020 Refurbishment
Originally designed by Frederick Gould and Giles Gilbert Scott, and built in 1930, City Gate House was later taken over by the media giant, Bloomberg.
AET's CAM-C (floor supply floor return) underfloor air conditioning system was originally installed on the 1st, 2nd, 3rd, 4th and 5th floors as part of the buildings 2002 refurbishment works, which won the BCO Best Fit-Out of Workplace Award.
On the 1st, 2nd and 3rd floors, occupied by Bloomberg, a total of 30 CAM units were installed, located around the perimeter of each floor. These provided 24-hour cooling to the densely populated trading and office floors, which were served by AET's standard TU4 Fantile units.
AET's slimline Fantile units were installed on the 4th and 5th floors, sub-let to the Law Form Herbert Smith, which had a reduced finished floor height.
In early 2020 AET Flexible Space won the contract to re-supply its innovative, market-leading underfloor air conditioning system to the refurbishment of this landmark London building, thanks in part to AET's close working relationship with both the M&E consultants, Hilson Moran, and newly appointed Architects Stiff & Trevillion, for 18 months prior.
AET's system has formed a significant element of the refurbishment works, and has enabled the project team to maximise floor to ceiling heights.
In addition, the inherent flexibility of AET's system has allowed the developers, Brookfield, to offer truly adaptable office space fit for 21st Century ways of working, thus
differentiating their market offering. During the design process the decision was made to incorporate AET's underfloor system on both the lower ground and ground floors to ensure consistency of interior design aesthetic as well as mechanical services, taking to total area served to just under 13000m2.
Following the £60 million renovation, City Gate House will be served by a total of 55 CAM-V Conditioned Air Modules which in turn will be served by 55 high efficiency direct expansion condensing units. 838 Fantile units will be installed across the buildings 9 floors, which will supply cool or warm air from the void beneath the raised access floor.
AET's unique Fantile units can be quickly and easily repositioned, making the system ideally suited for reconfiguration at the CAT-B stage.
Developer – Brookfields
Architect – Stiff + Trevillion
M&E Consultant – Hilson Moran
Quantity Surveyor – Exigere
Main Contractor – MACE
M&E Contractor – Essex Services Group PLC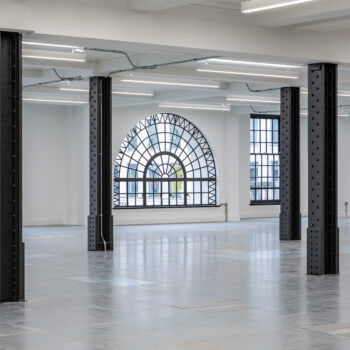 The Gilbert & One Lackington
Designed as a private members club, in 1930, by Frederick Gould and Giles Gilbert Scott, designer of the iconic British red telephone box, Citygate House has been lovingly restored to its former glory and returned to its original name, The Gilbert.
Refurbishment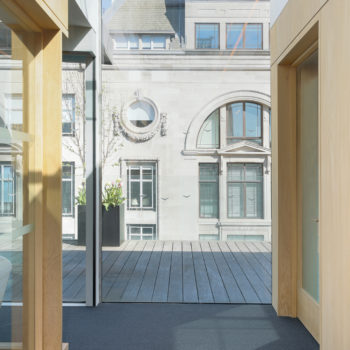 10 St Giles Square
Part of the dramatic revival of London's iconic skyscraper, Centre Point, this project, completed in February 2021, focused on creating the new London headquarters of Japanese developer and investor, Kajima.
London
Refurbishment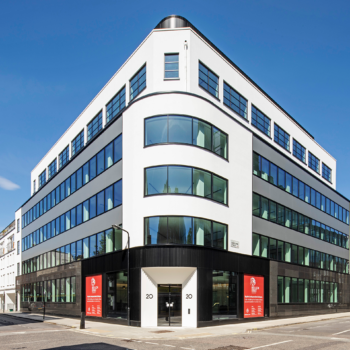 20 Red Lion Street
This redevelopment of an existing five-storey 1950's office building in the heart of Holborn, includes a single-storey extension to the roof, an extension to the office plate to the rear by 3.5m, and an extensive internal reconfiguration.
Refurbishment
Harella House
This high-end refurbishment and extension of a 1930's warehouse and former clothing factory has had its interior space transformed into six floors of premium, light, airy, and flexible workspace, whilst also achieving a BREEAM 'Excellent' rating.
Energy Efficiency
Refurbishment
Contact us to discuss your HVAC requirements
See how UfAC can speed up construction time, reduce costs and create space.