We're very pleased with the end result at 180 Great Portland Street. The building refurbishment won a BCO Innovations Award for its innovative solutions and it's fair to say that the floor based air conditioning system played an essential part.
Peter O' Halloran, Project Director, Cundall
System
CAM-C - floor supply, low-level return
2008 Refurbishment
This stunning refurbishment of a former Edwardian residential mansion block in the heart of London's West End, transformed cellular office space into five storeys of high class, open plan accommodation.
The development brief was to maximise lettable space, whilst minimising material and construction costs. There were a few specific challenges with this project which made AET Flexible
Space's underfloor air conditioning (UfAC) system the best option for this project, including restricted headroom and structural and facade limitations.
AET's CAM-C system, with underfloor supply and floor-level return air, was selected as all of the services are located in the raised access floor, removing the need for any ceiling-based services and so maximising floor to ceiling heights.
Chilled or warmed air is provided by the conditioned air module (CAM). The underfloor void is divided into supply and return air channels, and  supply air is drawn up into the space by Fantile units (FTU450), which are recessed into the floor.
These Fantile units feature individual controls to provide variable speed and temperature adjusted for maximum user comfort. Air travels back to the CAM via return grilles located over the return channel for reconditioning and is mixed with fresh air to achieve high standards of indoor air quality.
AET's flexible underfloor UfAC solution allowed for a minimum floor plenum of 200mm. This maximised the floor to ceiling height, and post refurbishment enabled a 35% increase in total occupancy.
Sustainability played an important role in the brief, with the specification of the building services having to allow for future flexibility whilst offering potential energy savings. By adopting the underfloor approach, the project team ensured that the offices could provide optimum comfort cooling and maximum versatility for speculative tenants.
180 Great Portland Street won the 2008 BCO Award for Innovation, and was awarded BREEAM "Very Good" status.
Client – Great Portland Estates
Architect – Lifshultz Davidson
Consultant – Cundall
M&E Consultant – M J Lonsdale
Quantity Surveyor – Davis Langdon
Project Manager – Buro Four
Bridge House
Completed in April 2022, this extensive refurbishment
of Grade II listed building Bridge House will create
light, and airy contemporary CAT-A office space which
will incorporate AET's innovative and highly adaptive
underfloor air conditioning (UfAC) system across all five
floors.
Refurbishment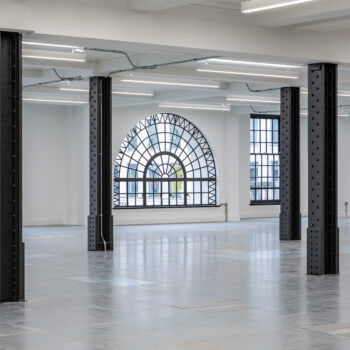 The Gilbert & One Lackington
Designed as a private members club, in 1930, by Frederick Gould and Giles Gilbert Scott, designer of the iconic British red telephone box, Citygate House has been lovingly restored to its former glory and returned to its original name, The Gilbert.
Refurbishment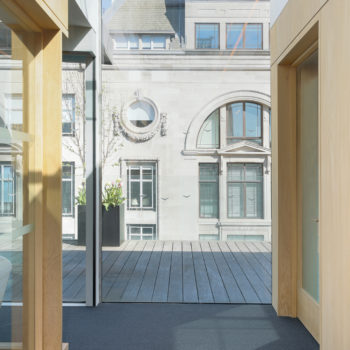 10 St Giles Square
Part of the dramatic revival of London's iconic skyscraper, Centre Point, this project, completed in February 2021, focused on creating the new London headquarters of Japanese developer and investor, Kajima.
London
Refurbishment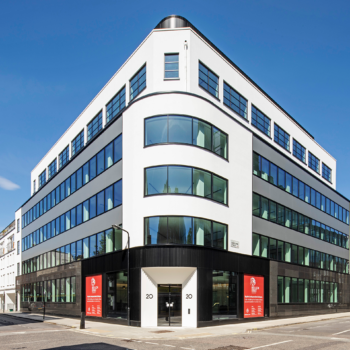 20 Red Lion Street
This redevelopment of an existing five-storey 1950's office building in the heart of Holborn, includes a single-storey extension to the roof, an extension to the office plate to the rear by 3.5m, and an extensive internal reconfiguration.
Refurbishment
Contact us to discuss your HVAC requirements
See how UfAC can speed up construction time, reduce costs and create space.