System
CAM-V Direct Expansion Underfloor supply air, high level return air
2018 Refurbishment
The six floor property offers both retail and office accommodation and was acquired by Royal London Asset Management from Development Securities for £8.85million.
The 16,311 sq ft building on Warwick Street has been stripped back to the core and has undergone a full redevelopment, including redesigned windows and a vibrant green brick façade to grant more architectural definition and visual interest from the street.
Office accommodation featuring the AET  CAM-V Underfloor Air Conditioning System has been created on floors 1-4 and the Ground and basement floors are reserved for retail use.  As a speculative office development, the high level return air option was preferred due to the ease of positioning Fantiles for future tenants.
M&E Consultant, MTT in London, specified the mechanical services Under Floor Air design for the refurbishment  due to the restricted headroom availability and AET Flexible Space worked in conjunction with the appointed M&E Contractor, WBS Mechanical Services to deliver the underfloor air conditioning system specified for the 11,000 sq. ft. of Grade – A office accommodation. It has been estimated that using the raised access floor as a services route increased headroom by more than 200mm when compared with a conventional Ceiling Based System such as Fan Coils.
With underfloor systems, fully conditioned air is fed into the plenum by a zonal downflow units (CAM) serving areas up 300 sq m each. Conditioned air is then supplied into the workspace via fan terminal units (Fantiles) recessed into the floor. Systems can be either chilled water or direct expansion, configured with either floor level (CAM-C) or high level (CAM-V) return and they can easily integrate with passive or other ventilation systems.
The final system specification at Hammersley House is a CAM-V direct expansion (DX) system, with underfloor supply air and return air at high level. The high level return air option is often preferred as it can offer great  flexibility for positioning Fantiles for future and speculative tenants. A total of seven CAM-V downflow units provide conditioned air to the four floors, with two zones on floors 1 to 3 and a larger single unit for the smaller 4th floor. These each are connected to respectively sized, high efficiency heat pumps located on the rooftop. The underfloor void is 400mm, more than adequate to accommodate the standard TU4 Fantile units which all have additional 500W heaters for additional performance. A total of 59 Fantiles were supplied by AET – approximately 15 per floor and the system is connected to a central BMS using an AET Flexgateway interface module.
Utilising the raised access floor as a plenum permits the owner to claim additional Capital Allowances for the raised floor installation and under current Government rules allows 100% write off in the first year on installations up to £1 Million. Normally raised access floor attracts around 6%  relief per annum but using it as a floor plenum(a duct) it changes its status from Fixture to plant and equipment thus attracting the enhanced Capital Allowance.
The project was developed under Royal London Asset Management's sustainability framework and is expected to be awarded BREEAM "Very Good".
Architect – Squire & Partners
Consultant – MTT
Developer – Royal London Asset Management
Main Contractor – Virtus
Bridge House
Completed in April 2022, this extensive refurbishment
of Grade II listed building Bridge House will create
light, and airy contemporary CAT-A office space which
will incorporate AET's innovative and highly adaptive
underfloor air conditioning (UfAC) system across all five
floors.
Refurbishment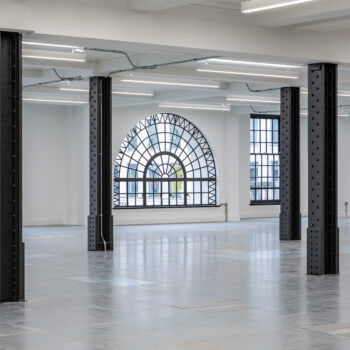 The Gilbert & One Lackington
Designed as a private members club, in 1930, by Frederick Gould and Giles Gilbert Scott, designer of the iconic British red telephone box, Citygate House has been lovingly restored to its former glory and returned to its original name, The Gilbert.
Refurbishment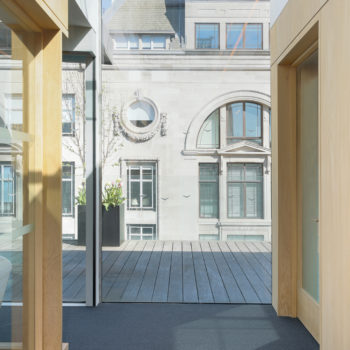 10 St Giles Square
Part of the dramatic revival of London's iconic skyscraper, Centre Point, this project, completed in February 2021, focused on creating the new London headquarters of Japanese developer and investor, Kajima.
London
Refurbishment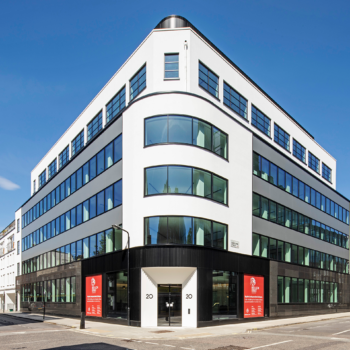 20 Red Lion Street
This redevelopment of an existing five-storey 1950's office building in the heart of Holborn, includes a single-storey extension to the roof, an extension to the office plate to the rear by 3.5m, and an extensive internal reconfiguration.
Refurbishment
Contact us to discuss your HVAC requirements
See how UfAC can speed up construction time, reduce costs and create space.